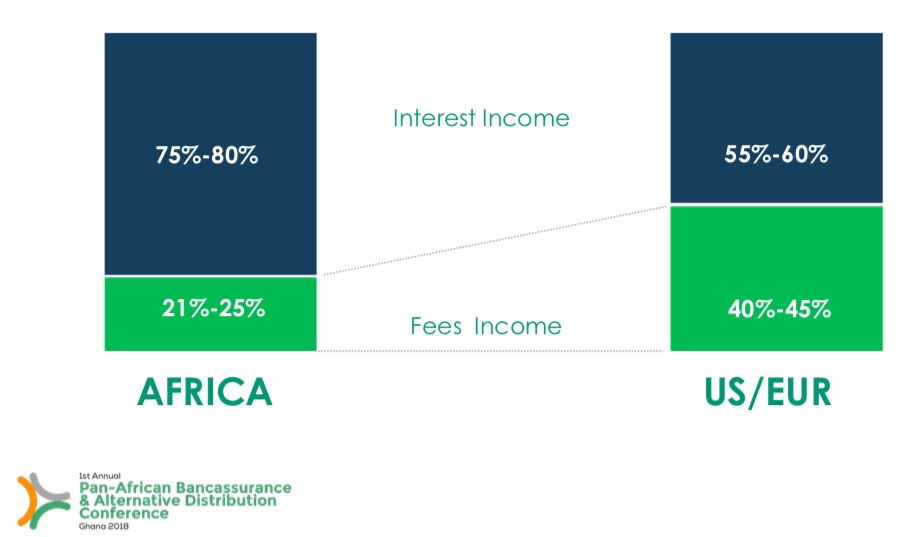 V
The chart above shows income sources for African and their European/Western counterparts. The marked difference in revenue sources is a pointer for 2 things from my perspective, one of which is commonly known i.e. the high risk associated with doing business with most African countries and therefore the impact on investor confidence etc.


1. The High risk of doing business in Africa, causing interest rates to hover between anywhere from 10% - 30% even 50%, depending on your country and who you are taking money from. This is prohibitive for any business to operate profitably at. Interest rates in western world are anywhere between 0.5 - 2.0% at most. This therefore leaves room for businesses in those parts to have a better chance at succeeding. For African businesses, the consumers bear the brunt as businesses have to factor in the cost of money before overheads and profit. Let's not go into taxation (another monster) at this point. Here lies my first opportunity for African-Fintech startups. The almost 80% revenue source from interest rates for African banks breeds complacency and a poor customer centric products. Customers have to keep paying, and paying. The opportunity here for Fin-tech companies is in bringing efficiencies to the system. By lowering the cost of doing business, there is a huge opportunity for start-ups to "steal" clients from the banks. For instance, I see no reason why banks should foray into the business of selling convenience services to their customers (recharge cards, bill payments, etc.). Let's see what is the definition of a Bank. According to Wikipedia,  "a bank is a financial institution that accepts deposits from the public and creates credit. Lending activities can be performed either directly or indirectly through capital markets. Due to their importance in the financial stability of a country, banks are highly regulated in most countries". Investopedia defines a bank as "a financial institution licensed to receive deposits and make loans. Banks may also provide financial services, such as wealth management, currency exchange and safe deposit boxes". I therefore fault our regulators for not doing their jobs properly. The excuse of banks foraying into these convenience services sector is that there isn't a "proper system/structure to offer those services to their clients so…" and I say bull! If the banks do their jobs right then they will provide the loans to those whose business it is to provide such services, to be setup properly while the banks earn interests for offering the services! Left to continue unchecked, African banks will start selling pepper and tomatoes within banking halls. They already are hosting fashion and food fairs as well as owning online shopping platforms. Fin-tech firms are not saddled with the heavy overheads of banks and therefore can offer these same services better (if they know what they are doing that is). 


African governments have to also do their bit to improve governance and security and therefore bring down the risks of doing business in Africa. This is part of what translates to the high cost of money in Africa…but again, that distracts from the crux of this piece. 
2. The 20% of Banks revenue in Africa coming from fees. Fees for what? Ok…so fees for offering banking related services. This is where Banks in Africa have room to grow! Seeing that Western banks have an almost 50 – 50 split in revenue source between interests income and fees, it is little wonder that those Western Banks remain lenders to our African nations and counterparts while offering a much wider variety of banking related services to their clients. Fin-Tech firms have a huge role in bringing efficiencies in our banking sector by giving the banks a run for their money. On the other hand, banks have a huge investment and money making opportunity in offering better and additional financial services to boost their income. But they choose to play in the areas where they are not supposed to, areas that it is obvious that with their huge cash reserves and profits, makes it easier for them to foray into and setting the stakes even higher for SME's that have their core business in those areas.

I am not saying Fin-Tech firms should become banks, NO! Neither am I saying that Banks should "kill" Fin-Tech firms if they want to survive. Both cannot do without each other…roles just have to be clear and the African regulators have to step up their game. Business opportunities are being taken by banks moving away from traditional banking services which should be their primary focus and main source of income; they are to offer loans and banking services and therefore earn income from doing so and enable Fin-Tech firms support them through the efficiencies they can bring (reducing the cost of convenience while offering better and more efficient customer support services in those areas that our banks are having little success at, yet continue to play therein. It is so easy for a bank to start selling Mobile Phone recharge cards or TV-Subscription services…but so difficult for them to create the risk management tools that will enable them support small business better and ease the process of loan provision so the real sector can flourish even faster! 


You guessed right! Voucher Net Limited is in the business of offering convenience services and alternative payment platforms for bills payments. We aim to do it better than the banks in any country we operate because it is our CORE Business. Visit
www.vouchernet.com.ng
for more details.