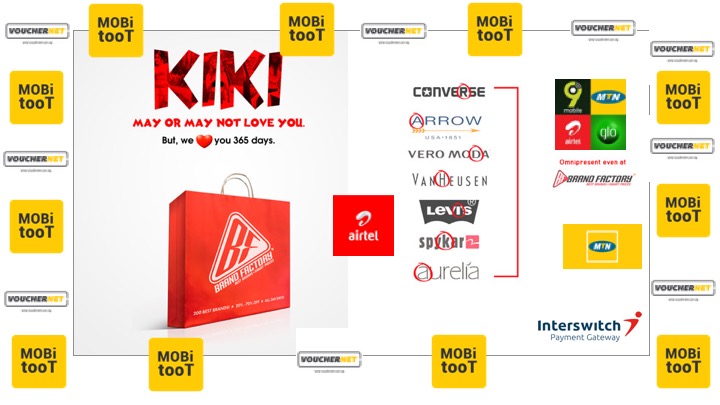 V It is so easy to become complacent when you think your brand has gotten there. "We have arrived" is the common Nigerian saying. But forgetting your humble beginnings is something great brands NEVER do. So they keep relics and memorabilia's of their early years. Recently, First Bank of Nigeria clocked 125 years of being in business. Guinness also joined the 100 years club and many more…Levi Straus at 146 years only went public last week. These days, big brands are going to be redefined by how they relate with customers and their ability to adapt to a fast-changing world.

If you are in the financial services business, the rule of thumb is "adapt or die". So in one of our multifaceted bids to adapt, we approached a certain "big Brand", offering to deepen their reach to their customers via a Convenience Channel services provider like us. We aggregate products which by virtue of the nature of these "big brands", they cannot, else they will be promoting other brands alongside their business. That is like a taboo in the Business world or tantamount to committing a sacrilegious crime. The only reason you can see a Diamond bank Logo beside Access Bank is because they have just consummated a merger. It is only in a dream will you see a Glo Mobile Shop selling an MTN product. But if you come to us, we can serve you DSTV in the morning, and Startimes 2 seconds later. You can get MTN, Glo, 9Mobile and Airtel all at once. We are called aggregators and we are small and versatile.Now back to my story of arrogant brands. So we had reason to reach out to this brand from a Southern African origin. They have gotten really big in Nigeria especially because of the lack luster competition locally. Had Nigerian brands really been serious, these guys would have been out of business but…they have a service that rivals are still struggling to play catch-up. And this is where their arrogance begins.

When a brand starts putting people in positions where they can actually look at a service provider that is actually adding or bringing value to their clients but they literarilly slam their doors in your face, know there is a problem.Even worse yet is when those brands fail to acknowledge that they have a problem…I mean, who spends 3 weeks searching through the internet for a household brand name and yet you are unable to get the Telephone number or email address of their Nigerian sales and marketing team? Ok, so we did and were unsuccessful. We then decidedly went through their customer care centre since we are also users of the brand We called the customer care centre and we were able to squeeze from them the location and phone number of their sales/marketing team. After attempting to call the number for another 3 weeks without the automated system giving us a human receptionist to talk to, we gave up and decided to hand-carry our proposal to the Victoria Island office of "big brand" company. We were bounced by the front office receptionist because we don't know the name of the person we were looking for. Ofcourse we don't know the name of anyone "DUH!" We don't know anyone in your organisation, because we were just trying to reach anyone responsible for your sales team. 'Fortunately,' they collected our letter and said they would hand it to the marketing team and acknowledged receipt on our copy.

The expectation was that we should have someone call us to a meeting but after 3 weeks of no feedback, we decided to leverage on an acquaintance (the MD of a foremost Nigerian media house) who gave us email addresses of the 'right people' to send our proposal to. And we did. Waited another 3 weeks and 2 reminders later, response eventually came acknowledging receipt and they would revert back. Several reminders later, we gave up with email follow up. In all of this encounter spanning about 3 months, we couldn't get a functional contact phone number for their marketing team. So we opined that this big brand only dealt with big or bigger brands. We sought alternatives to offer the same service and got one. But still not satisfied with what we offer our clients, we resumed our onslaught 6 months later to get direct access to the brand. This time around we were directed to the Ikeja office of big brand as that was where (we were told by their customer services representative again) to go to for what we needed. We arrived the Ikeja office and requested to meet with the head of sales team. We were introduced to a gentleman who listened intently to our journey and finally we believed we have come to the right place. WRONG! He gave me his contact number (PHEW! Finally, some progress) and said we should call the following day so we can meet with the bosses. We were glad we are getting somewhere at least. So, the following day, I called Mr. man. The phone rang endlessly with no response. "Haba! This guy acted like the messiah yesterday", I thought to myself. After 3 attempts with no response, I left it to repeat a few hours later. No response. So I sent an SMS to refresh the brother's memory…we were meant to call and schedule to meet. I couldn't have mistaken the number because he wrote it on a piece of paper with a colleague of his by his side.

2 weeks later, no result so I repeated my visit to Ikeja office. This time, Mr. Nice guy was apologizing and then invited the Madam in charge. I explained my reason for visiting and gave her a copy of our value proposition. She said she cannot collect the letter without permission from the "people in charge". I was perplexed but I hid my surprise. She then asked me to wait while she goes in to try get in touch with the people in charge. My wait was about an hour. She came back to apologize for being unsuccessful at contacting persons within her own organization. I was gob smacked. I asked when I could check back for a follow-up, instead, she gave me her number to call her the next day for a feedback but advised that the actual persons are in their V/I office, where I had tried unsuccessfully only to be turned back by the front desk attendant.Anyway, I got her number and returned to the Island. I called the lady the following day and fortunately she responded after 3 attempts. She explained she has not been able to reach anyone yet. Called back 3 days later, same story. I repeated again in 2 weeks and she gave the same feedback. At this point I almost lost my cool as she told me "I don't know what else to do…I cannot help you". I had to ask like really, "are you trying to get permission from South Africa if we can pass on a proposal in Nigeria? Can you at least send me the email address to forward the document to?" and the response was negative. At this point, I gave up! But the never say NEVER attitude in me just won't give up.

Fast forward to 6 months ago, I met someone whom I narrated the high brand ordeal to when I knew he was close to someone in the organisation about TV company big brand and how I had to give up…he says "ah! I know the marketing director, a South African, bla bla bla…I have direct bla bla bla and I can bla bla bla…". So I said to myself, ok, here's another shot. 3 days later he calls me to say he had spoken with the guy, gave me his email address and I wrote. This time, I was not just asking that he read my proposal but also to find out why they had such a process where it was easier to get into Fort Knox than to speak with "someone responsible" for their marketing services. Little did I know that my asking to speak with someone responsible would ignite a shit-storm from a Nigerian lady who was delegated to treat our proposal. How personal she got was beyond me! From ranting about how they are responsible people and the whole show is run by Nigerians and blab la bla! She went off a handle and for the life of me, I cannot understand where her grievance was coming from. It felt like a brother I don't have jilted her sister that I don't know... Can't I ask after 1 year and 6 months of trying to speak or meet with someone responsible for a service in an organisation seem like climbing Mount Everest? Actually, I should be the one throwing knives and spitting bile at everyone, yet, this lady managed to bypass my grievance, created one and threw it back at me like Thor's hammer!

I don't blame her! Big Brand Arrogance is what I summed it up to and guess what? That arrogance will disappear like someone helped me slap off the smirk off someone's face! Their kind of service is under attack from competing small brands left, right and center. Brands are even offering a better viewing experience for a lot less and even more convenience. When your brand is not shielded from innovation, you better grab on to working smart for longevity of your brand! Eventually we teamed up with another firm and have gotten better access to the same services to offer our clients as an aggregator and giving better value than what some big brands I know can only dream of!